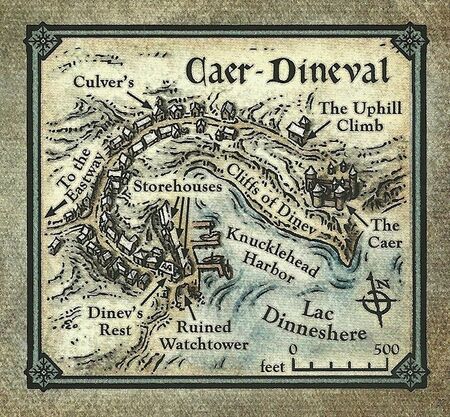 Speaker: Crannoc Siever - Lake: Lac Dinneshere - Population 250, part of Ten-Towns
"When last I visited Caer-Dineval, I found the town speaker livin' in an old fort at the top o' the road, perched up there like a lord in 'is castle. What's he lord of, I'd like to know. A little pride is well an' good, but never will I understand the vanity o'men!" - Beorne Steelstrike, caravan master
Description
Edit
Care means: fortress, fort, citadel, castle
There are 2 ways to Caer-Dineval. Alone the rocky shore of Lac Dinneshere or though the Eastway, to Loneywood, and a fairy up to town.
The town is set up like a spiral. The port, spirals up a hill to the gates of the Caer. All other buildings are on this upwards hill.
The Bastion of Lac Dinneshere, the caer was built 400 years ago by the Dinev family.
Shortly after it was built orcs attacked, murdered the Dinev's and claimed the caer as their own for hundreds of years.
Eventually the ancestors of the Caer-Dineval reclaimed the caer for themselves.
Goods & Services
Edit
Dinev's Rest InnEdit
Built in a shallow dell, protects from the wind, a relief.
Run by Kadie, vivacious young woman with fiery red hair. Her father was the ex speaker and while she is happy to be out of the Caer, she still complains a lot.
Very spacious. People sit around a common room around a central fire pit swapping stories.
One of the first buildings you see when entering the town.
The Uphill Climb TavernEdit
Perched ontop of the hill near the entrance of the Caer
Run by Roark, a ruggedly handsome fellow who takes pains to stock a variety of foodstuff from Bryn Shander.
Intimate, upper class and loungey-it's contrasted by the front bar where sailors race up the hill to unwind. Last one up the hill buys a round.
Culver's ShopEdit
A house turned shop
Run by Culver Ailsen, isn't so much of a merchant as he is a collector. Aging widower with no children.
Really interested in the history of Icewind Dale and Ten-Towns and collects anything he can get his hands on. Perfect place to find something you can't anywhere else.
Knows a great deal about the history of Icewind Dale. He loves to share his knowledge with anyone who will listen.
Characters
Edit
Crannoc SieverEdit
Sailor and fisher
Hot headed, bellicose but not violent
Big and wide man, he bullies people into silent agreement but doesn't really know how to debate.
Eleint (September)
30 - Howling Fiend pirate crew attacks Caer-Dineval
Marpenoth (October)
1 - Ship Rethnor establishes protection racket, selling fake magical symbols on boats